What Is Laser Skin Tightening?
Laser skin tightening is a minimally invasive, non-surgical process that uses an infrared light source (a laser) to tighten skin by heating the collagen under the skin's surface, causing the skin to contract (tighten). Facial skin tightening is noticeable immediately after the treatment, and there is no downtime, making this an increasingly popular procedure. Additional skin tightening occurs over the next few months, but optimal results usually require two or three treatments about a month apart.Laser skin tightening is an FDA approved method for the reduction of fine lines, wrinkles, and skin laxity. While laser skin tightening results may not be as dramatic as those of a face lift, patients enjoy moderate results with no downtime. An added benefit of laser skin tightening is that it is safe and effective for restoring a more firm, youthful appearance to skin all over the body. Read on to learn more about the benefits of laser skin tightening treatment.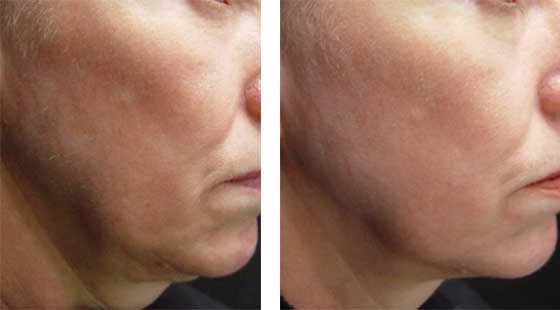 The methods for non-surgical laser skin tightening used for facial procedures can be customized for skin tightening on other areas of the body. The laser settings can be adjusted for to treat the thicker skin of the body. Special laser handpieces are changed to be able to cover larger and wider areas of skin. As with facial skin, the scientific principle is applied to the body – treating the backbone of the skin (dermis) to contract (tighten) and produce collagen as response to heat stimulation of the laser. The precise control of heat and width of the laser beam ensures effective skin treatment without excess heat which can damage skin and fat tissue.
Partial to Fully Ablative Skin Tightening
The original standard of laser skin tightening (in the early 90's) is fully ablative treatment – light and heat energy applied to fully or partially remove layers of skin (epidermis) and transferring heat to the backbone of the skin, or the dermis, which forms the support structure of the skin. When the target temperature, between 43-50 degrees celsius (depending on the individual patient) of controlled heat reaches the dermis, the dermis contracts. The dermis responds to this heat as an injury, and reacts with a healing response by producing more collagen.